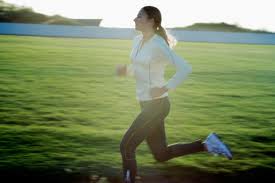 It's summer, and I am semi-officially on vacation. I am still doing a bit of work remotely, but I have a few weeks off from my day job and have decided to travel, ant take a bit of a road trip to visit family and enjoy the summer. I've been a bit worried about how I would be able to maintain my new workout routine, the Couch to 5K. I am on my last two weeks, which means I am up to running for about 28 minutes. I have found it easy and fun to maintain my Couch to 5K while on vacation – here are a few tips as to how I have done so!
1) Go by time – Couch to 5K gives you the option to monitor your progress by measuring mileage or time. Since I try to run outside, and because I have a hard time getting an accurate distance reading with my GPS all the time, I have been measuring my progress by time. This makes things much more portable, because I can measure time wherever I am; I don't need to worry about measuring the distance I am running.
2) Couch to 5K app – I downloaded the Couch to 5K app last month from active.com. Although I am still a bit bitter about how the coolrunning.com website has changed since Active took it over years ago, the app is pretty good quality, and it has made it easier to track my return to the Couch to 5K program.
3) Pack light – If you are planning on running during your vacation, you do not need to pack a lot of extra equipment. You can wear your running shoes when you are out walking, too. You just need a pair of shorts and a t-shirt.
4) Use the hotel treadmill – If the weather is too hot where you are, you can always use your hotel treadmill. If your hotel doesn't have a treadmill, ask around at local gyms about a day pass, or better yet, a free trial week. You should be able to get in a few runs indoors if need be.
5) Couch to 5K podcasts – Needing a little extra boost for those last few weeks? I've been enjoying some great podcasts from vacationstarter.com that have that extra push on days I am feeling a bit lazy. The best thing is that there is a new one every week, so you don't get too tired of the music.