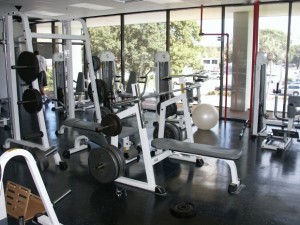 If you are looking to spice up your old boring spinning class, maybe the new Flywheel workout is for you. These spinning classes incorporate your entire body so you get a full cardio workout while building upper body strength. To get a complete workout and tone your entire body you can combine the workout with FlyBarre, a ballet inspired workout.
What you need:
Comfortable biking clothing – Padded shorts are the most comfortable way to complete your class. If you are used to biking outdoors then you can use those shorts.  Make sure you use spinning shoes to keep your feet comfortable and short sleeves to make sure you have full range of motion. It is best to wear a wicking material top as you are going to sweat a LOT!
Before you workout – This is an intensive workout, so make sure that if you are a beginner that you get it cleared with your doctor. If you feel the workout is too much, you can always quit at any time. Make sure you bring a lot of water so that you have enough to keep you hydrated the entire time.
Why Flywheel? Each class is set up by a bunch of DJ's so that the music is optimized to get your body moving and get you burning the most calories. Each class is different and the instructors are all well trained in Flywheel techniques so they are giving you a quality class.
Flywheel bikes are also specially made so you can follow your resistance and speed, so you can track your entire workout, and many gyms offer you a record that you can transfer to your iPhone and track your progress as you go.
The Flywheel motto is 'Never Coast, Push Your Hardest', and they certainly give you every opportunity available to get you there. The cost of the classes can be a bit pricey, but they are comparable to other special bike classes like Spincycle or Soulcycle.
These alternatives are great if you are getting tired of your same old spin class and are looking for something a little bit more. If you take this class in combination with other spin classes you can probably get the most for your money.
Flywheel tends to offer a free class before you commit to anything, so why not sign up for one and give it a try.