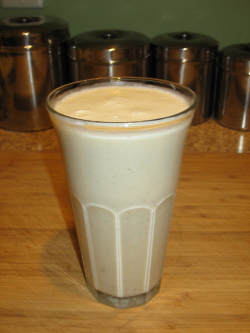 Dairy products are a great source of calcium, protein, Vitamins A and D, and Vitamin B2 (riboflavin). According to the USDA, children ages 9-18 need three servings of dairy products daily to build strong bones. Adults need dairy products, too, to maintain bone strength and to prevent osteoporosis. Milk and cheese are excellent for strong teeth. Cheese, in particular, neutralizes the acids in the mouth that erode tooth enamel. Studies also indicate low fat dairy products are good for blood pressure and will help prevent heart disease, cancer, and strokes. Scientists have discovered that dairy products may also prevent colon cancer, because they decrease fecal toxicity, and people who eat and drink dairy products are less likely to have adenomas, the precursors to colon cancer.
Here are eight dairy snack suggestions that will you and your family will love and that will help keep you healthy, too.
Chocolate milk
This is the ultimate sports drink that helps build strong bones and teeth. Remember how gold medal swimmer Michael Phelps drank chocolate milk in between sessions at the Olympics? Chocolate milk has Vitamin D, calcium, protein, and energy rich carbs. Best of all, chocolate milk is easy to make and tastes good. Serving suggestion: Use an old-fashioned soda fountain glass of chocolate milk and top it off with a flexible straw.
Strawberry and banana smoothie
For two servings: Use a blender and add 1 cup low-fat milk, 1/2 cup fresh or frozen strawberries, 1/2 cup banana, and ½ tsp honey. Blend for 30 seconds.
Chocolate malted milkshake
Delicious, about 250 calories, and easy to make, two servings of this milkshake require ¼ cup vanilla yogurt, 3 Tbsps malted milk powder (available in supermarkets where evaporated and canned milk or cocoa is located), 1½ Tbsp cocoa powder, ½ tsp instant espresso coffee powder, 1 cup low fat milk, 1 tsp vanilla extract. Blend ingredients until smooth and pour into glasses.
Mini pizza
Toast a whole wheat English muffin. Drizzle it with pizza sauce. Sprinkle with low fat mozzarella cheese. Microwave for 15 seconds.
Cheese and salsa tostada
Sprinkle grated Monterey Jack cheese on a corn tortilla. Microwave for 20 seconds. Top with salsa.
Pita pockets with apple, ricotta, and cinnamon
Fill a whole grain pita pocket with ricotta cheese and apple slices. Add a dash of cinnamon.
Deviled eggs
This breakfast and appetizer favorite makes a nutritious snack, too. You'll need four hard cooked eggs (with their shells peeled off), 2 Tbsp mayonnaise, 2 Tbsp ketchup, 2 tsp lemon juice, a dash of Tabasco sauce, ¼ small onion–minced, ½ tsp mustard, ½ tsp paprika, 1 tsp chopped chives, and salt and pepper to taste. Halve each egg lengthwise. Scoop out the yolks. Add yokes, mayonnaise, ketchup, lemon juice, Tabasco sauce, onion, and salt and pepper in a food processor. Blend until smooth. Refill egg white halves with yolk mixture. Garnish with chives.
Frozen graham cracker sandwiches with yogurt and banana slices 
Spread a scoop of frozen vanilla yogurt on two graham crackers, and fill the sandwich with banana slices.