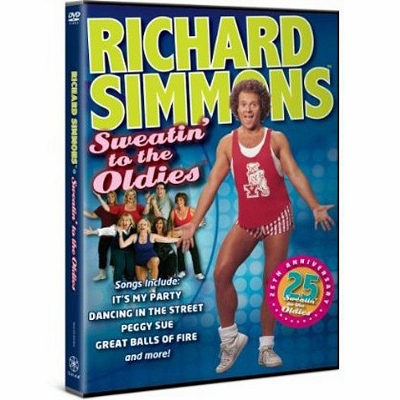 Although it seems a bit old school, the workout stylings of Richard Simmons remain one of the best ways to get moving and breaking a sweat if you have a lot of weight to lose and you are too nervous to hit the gym. Simmons gives you a nice safe workout that can help you lose those first few pounds, and help build your confidence so that you can increase your cardio workout as you go. Here are some ways you can workout with Richard Simmons if you are just looking to start working out, or if you are looking for a workout that will make you smile.
These workouts are all easy on the joints, easy for beginners and easy to do at home with little to no extra equipment. Just make sure you have a good pair of sneakers so that you do not damage your knees or hips.
1) Sweat and Shout – This is a good DVD if you are looking for a good first workout video you can get a lot of life out of. It is not the easiest routine, because it is quite fast paced, but after you do the routine a few times, you should be able to catch on. In the beginning you may want to have your DVD remote close at hand so you can check back now and then. This workout may not be the best if you have some workout experience, but if you are looking for a place to begin, this is a good one.
2) Disco Sweat – This one is also a great disco dance routine, that may seem tricky at first if you are not used to choreography, but after a few tries should not give you too much trouble. Unlike Sweat and Shout, this DVD has several different levels so you can Disco sweat with more variety to your workout.
3) The Complete Set of Sweatin' to the Oldies – This fun routine, with such classics as "Dancing in the Street", "Peggy Sue" and "Ain't No Mountain High Enough" will have you smiling while you work out, even if it still feels a bit silly after all of these years. Richard works out next to regular people, and these routines are easy to follow and fun. You will also get a kick out of the old hairstyles and funny workout outfits.
4) Workout with the man himself – If you are in the Beverly Hills area, Simmons teaches classes at his own gym on a regular basis. You will need to book a spot in advance, but he is known for taking his time to greet everyone and is very supportive. Use this as a great way to celebrate meeting your workout goals!