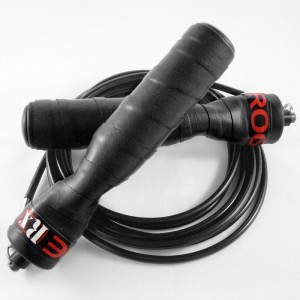 It is that time of year where we do not want to go outside unless we have to. I live in the south and still seek numerous excuses to not go out for a run or ride my bike. Inside my house I can not stand to run on a treadmill or elliptical because they bore me to tears. That leaves my cardio game at a serious disadvantage. There are a few things I like to do to keep the heart pumping from in my home or garage.
One of my absolute favorite cardio workouts is to shadow box and I do that very often. If you go here, you can read my article on that. Another exercise that excites me to almost no end is jumping rope. It is hard not to imagine your very own Rocky montage while twirling the rope at high speeds. The only challenge is finding the space to do this exercise in many homes.
I have high ceilings throughout my home and still have a challenge due to furniture or home decor. I usually am forced to take to the garage. It is much easier to make it happen from there. Then comes the next challenge: time. Most normal human beings are not able to skip rope for 20 minutes straight. It takes a lot out of you and frankly is very difficult to achieve long times with. Over time you can build to these levels, but in the meantime your heart will suffer.
What I do is jump for as long as I can. Let's say five minutes roughly. Then I will keep my heart pumping by transitioning to other exercises. I supplement the time with jumping jacks, knee high jumps, push ups, crunches, and lunges.
My workouts usually go like this:
Jump rope until I am pooped (five minutes) then do some jumping jacks. Pick the rope back up and go again (about another five minutes) and then do 50 push ups and roll over to do 50 crunches. Then back to 30 push ups and 30 crunches. Next, 15 and 15.
Back to the rope for another three to five minutes. Then I knock out some knee high jumps (about 20) and then some more jumping jacks. Right about now I get a quick water break and then back to the rope for another three minutes. I then do some lunges mixed with 25 push ups and 25 crunches.  Then finish with the rope until I want to cry.
There are a million combos you can choose from and I usually mix it up quite a bit. Even if  you can not find the space to do the jump rope, these exercises will really help you to keep the heart flowing without getting a chill from the winter wind.