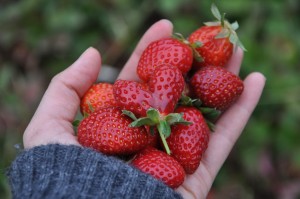 When I discuss superfoods with people, it seems the most popular reason why they say that they don't add them to their grocery list is because of cost. There are some, that when they are not in season, can be a little pricey, but none are really that expensive when you think about the health benefits of them. Here we will cover some of the lower cost superfoods to show that it can be really inexpensive to have some, or all, of these powerful foods on hand.
Strawberries – I know, strawberries are not in season year round, and you can't always find them at your grocery store. You can, however, buy frozen strawberries if you just read the packaging and make sure there is no sugar added. You don't need to eat a lot of them in a sitting either – one cup of strawberries, fresh or frozen, have more vitamin C than an orange. They contain the most antioxidants of any other fruit, and you will only consume about 50 calories with one cup. An added bonus is that strawberries also whiten your teeth because of their malic acid content.
Mushrooms – Mushrooms are really budget-friendly, and you can find them in the produce section all year long. You don't have to buy the fancy varieties like shiitake or wild brown mushrooms to get the super antioxidant benefits. White capped mushrooms that are less expensive provide the same healthy benefits of antioxidants, as well as vitamin D, which most of us are deficient in, as well as leptin, which help us to feel full longer. Some people like to eat mushrooms as a red meat substitute, which has shown to not only satisfy the biggest meat lover, but they also consume fewer calories than meat.  Use them in sauces, pizza, fajitas, and of course, salads.
Black Beans – Move over edamame, there's a new bean in town! Well, not really new, but black beans are becoming popular again due to their antioxidant qualities and other health benefits. Results from a recent study that had people eat black beans four times a week showed that their blood pressure lowered, as opposed to a group who only ate them once a week. In addition to lowering the risk of coronary disease, black beans are also chock-full of fiber. They contain 7.5 grams of fiber in only a half cup serving. Though all legumes are great sources of antioxidants and fiber, black beans are on the top of the list. They're great on salads, on baked potatoes, or in burritos. The canned variety is fine as long as you rinse them before using them to wash away some of the sodium.
(Photo courtesy of Luz Maria Espinoza)