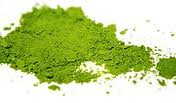 We are constantly discovering new superfoods that we can add to our diets. Although matcha may be something you have not heard of before, it has been around for over 800 years. It was used in ancient China as a medicine. It eventually made its way to Japan where it was used in ceremonies, and it is still used today. The matcha is a green tea leaf, but it's not your conventional green tea. It is supposed to be the powerhouse of all superfoods, because of it exceeds every antioxidant that is available.
Matcha is ten times stronger than the green tea that we are all familiar with. It is higher in antioxidants than vitamin C (by 100 times), and also higher than blueberries and vitamin E, and it has 70 percent more antioxidants than fresh squeezed orange juice. Aside from the intense concentration of antioxidants, it has nine times the beta carotene of spinach, and it is rich in fiber, along with other vitamins and minerals.
Matcha tea is also good for decreasing stress and nervousness. A form of amino acid, called L- Theanines, relaxes you while helping you to keep a balanced energy level for up to six hours with no crash afterwards. It is also supposed to help you think more clearly which allows you to be more centered.
When making matcha tea, you will ingest the whole leaf instead of brewing tea and then discarding the leaf. It is mashed up in the cup and whisked. If that doesn't appeal to you, matcha tea concentrate is available where it is already pulsed to a powder, and you simply add a teaspoon to hot water. Many health food stores are now carrying matcha tea. If you can't find it locally, it is readily available online. With all of the benefits of this powerful superfood, we should all be adding a cup or two to our daily diet. We need matcha tea's astonishing health benefits.