Have a running group? It's a lot of fun just to get together as a group of people and go for runs throughout the week. However, have you ever thought of racing together as a team? You should, because it's a ton of fun!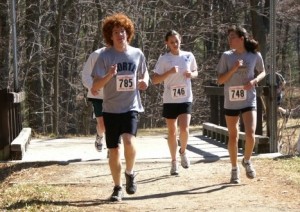 On August 24th, 2008, at 9am, people will be gathered at Mine Falls Park in Nashua, New Hampshire, to race the annual Moose on the Loose 10 mile trail race & relay. The race is just for fun–it's nothing all too serious. You even can run mixed gender teams!
You can enter the race as an individual 10 Mile Runner, as a two-runner team, or a four-runner team. Each "race" is 10 miles long, so if you're on a four runner team, you will run two and a half miles. A person on a two runner team will run 5 miles and then "hand off" to his or her partner.
As I said before, the race is purely for laughs. Of course, you can take it extremely seriously and try to win the event, but hey, the awards are not something to die for. However, the awards, pint glasses, are very useful.
The event's website shows how "serious" this event is. It boasts about how there is plain water at the end of the race, not flavored, and how there is no squeezable yogurt waiting for you at the finish line. However, you will get some bad jokes by the race director before and after the race! At the end of the race, there are some fun raffles, and there are some other things to do. Each runner will walk away with a goodie bag and some other free stuff. And, just new this year, the top 300 finishers (including teams) get medals!
Check it out! There is a pre-entry fee of $16 and a post entry fee of $20. Register now!