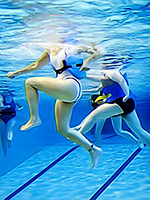 My sister has  a stress fracture in her tibia and her femur.  She spent all of last summer with a stress fracture in her foot. This injure forced her to pool run. She would run anywhere from thirty minutes to one and a half hours. There were times when I would join her, but to run in the pool for that long kind of got boring at times. I do not know how that girl did what she did. She was and is dedicated to the sport of running, and it killed her last summer when she found out that she could not run on land–so, she resorted to the pool.
This summer was supposed to be different, but it has not been. She once again has been confined to the environment of a pool in order to exercise. To make her time interesting, she listens to music. There are some other things that she could do in order to make her time more interesting.
Here is my first suggestion– run with friends. I know that running with other people in the pool makes things a lot easier and the time goes by a lot faster.
My second suggestion would be vary the workouts. Doing the same thing over and over again can get very redundant and make the workouts seem useless. If you do the same thing every day, you may be more likely to skip a day because you may think to yourself, well, would missing one day really be such a big deal?
Playing games is also an option. Personally, I am a big fan of "follow the leader," but playing with a beach ball or a football works as well. In order to play with the ball while still maintaining a workout, you have to pass the ball along as you run through the pool.
Pool running is a fun activity to do once in a while, but if you have to do it every day, you just may have to spice it up a little bit. Good luck pool running!