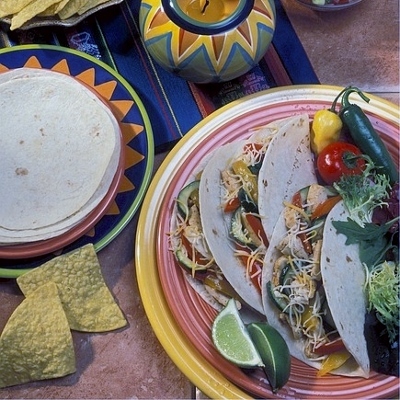 When you think about healthy meals, does your mind go straight for bland vegetables and plain lean cuts of meat? If so, it's time to change that outlook with healthy, yet delicious, ingredients cooked up with tasty spices. Flavor does not need to mean the dish is fattening or bad for you. In fact, the more flavor in each bite, the less you'll need to eat to fill satisfied. Once you learn how to cook this delicious fajita meal, it may find its way onto your menu at least once a week. Thankfully, it's not loaded with calories due to the large amount of vegetables used for the dish. Here's how to cook it up.
Ingredients
Fajitas
3 Pound chuck roast, frozen
1 Large sweet Walla Walla onion
3 Green, yellow or red peppers
1/8 Cup vegetable or olive oil
1 Teaspoon black pepper
1 Tablespoon sea salt
1 Tablespoon cumin
1 Tablespoon granulated garlic
1 Tablespoon onion powder
4 Tablespoons chili powder
2 Tablespoons paprika
Guacamole
3 Large avocados
1/4 Red onion
Couple pinches of cilantro
1 Jalapeño (optional)
2 Tablespoons lemon or lime juice
3 Cloves of garlic
1 Teaspoon sea Salt
1/4 Teaspoon black pepper
Extras
Low carb tortillas
Shredded cheese
Lettuce
Sour cream
Hot sauce
Prep
Start the prep process the morning before your planned fajita meal. Once you get home, you can just fry up the meat and vegetables and serve.
To prep the fajitas, mix up your spices and oil, and then pour them in a mixing bowl large enough to accommodate the sliced meat. Cut the frozen chuck roast into 1/4 inch thick by 1-inch wide slices and toss them in the oily spice mixture. Allow the meat to marinate in the fridge until dinnertime. Rinse and slice up the peppers and onion. Place them in a bag in the fridge as well.
For your guacamole, cut your avocados in half and remove the pit with your knife. Spoon the avocado flesh into a bowl and press it with a potato masher or fork to break into small pieces. Dice the red onion, jalapenos and cilantro into tiny pieces. Mix them into the mashed avocado. Add the spices and lemon or lime juice before mixing a final time. Place your guac in the fridge to allow the flavors to meld.
Cook
A half hour before your planned dinnertime, heat up a skillet before pouring the meat inside. Brown the meat, and place in a bowl off to the side. Fry up your onions and peppers in the same skillet to soak up the remaining juices. Once the vegetables soften a bit, pour the meat back in and mix together.
Serve
You can serve your fajita meat and vegetables on a bed of lettuce or in a low carb tortilla wrap. Top with the guacamole, cheese, sour cream or hot sauce for an additional kick of flavor.