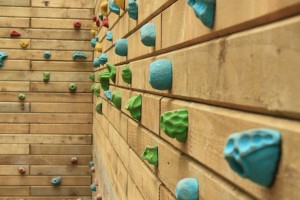 Are you looking for a new way to build upper body strength, and also looking for a new hobby where you can really develop a set of skills you can use practically? If so, then climbing may be the answer. Climbing is a great way to build upper body strength, and you can do it in practically any environment. Here are some tips for building upper body strength by climbing.
1) Climbing gyms – If you live in a metropolitan area, chances are you have a local climbing wall and climbing gym nearby. This is a great place to begin if you are a beginner climber. You can sign up for beginner classes that can teach you to climb safely, develop a stronger upper body, and help teach you how you can practice climbing with friends who have also trained.
2) Parkour – If you haven't heard of parkour yet, you have probably seen people practicing parkour by jumping and climbing all over city monuments and walls, and it is a great way to help build upper body strength by climbing. Practice doing the classic Parkour wall dip and then pull yourself up to an elevated surface. You can use your upper body to raise your body up, dip down slightly, and then push yourself up to the top of the surface.
3) Bouldering – If you are afraid of heights, like me, then bouldering can be a great way to train your upper body by climbing not up, but across. It also requires very little equipment so it is good if you are on a tight budget. But if you don't have any good boulders nearby, there is often good practice material at your climbing gym. Even if you are not climbing upwards, you can train your upper body by finding quality holds on a bolder, moving your body across the boulder and finding good grips on the rock.
One of the benefits of building upper body strength by climbing is that you are building muscles through actual usage, which is different from building muscle by lifting weights and isolating muscles. You are training your entire body to function in a certain situation and that can be very positive for building upper body strength. Not only are you training your arms and shoulders, you are training your core, your legs, your neck, and even your jaw! (At least I always feel sore after straining my jaw after a good climb!).