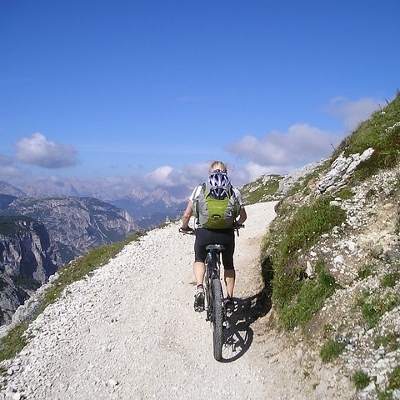 As you increase your speed and distance on bike rides, you may start to notice a desperate need for purpose built shoes. A good pair of shoes decreases strain on the nerves, ligaments and muscles in your feet. Once you make the smart investment on better shoes, you may even see a natural increase in your cycling performance without any extra effort. Here are a few things to search for in a good pair of cycling shoes.
Arch Support
No matter what type of bike pedal you use, your need shoes with enough arch support to minimize pressure on the bottom of your foot. The inner arch at the bottom of the shoe should support and cushion the natural shape of your foot without applying excess pressure. You can often spot shoes with a solid arch by looking for sole reinforcements at the heel and toe. You may even be able to see the outline of the arch shown on the sides of the upper sole.
Textured Sole
The sole should also feature a textured rubber surface that offers an immense amount of grip. After all, if your foot slips off the pedal, you will bang your shin and be in a world of hurt. Fiberglass or composite reinforcements in the sole keep the lower materials from wearing away prematurely. You definitely don't want to get a dozen miles into your bike ride and notice the rubber sole already started to smooth out. Depending on your weekly riding distance, a good pair of cycling shoes should last at least three months on average.
Lace Protection
The laces are, arguably, the weakest part of the entire shoe. Frequent contact with the bike frame or pedals will shred through the soft lace materials in no time flat. To avoid this problem, choose shoes with thick lace protection devices. Rubber, plastic or even leather protectors will keep the soft threads in the laces from breaking at the contact point. Alternatively, you can obtain cycling shoes with innovative click straps that tightly secure the shoes on your feet without the use of hook and latch tape.
Toe Reinforcement
Despite an awesome set of brakes on your bike, you will likely find yourself using the toes of your shoes to slough off the last bit of speed when stopping. Even while slowly coming to a stop, putting your toes to the ground will shred through soft leather materials. Luckily, you can find shoes with a composite or hard plastic toe protector that dramatically prolongs the materials' life.
Trying Out the Options
Unfortunately, you cannot bring your bike inside the store while testing out your cycling shoes. Instead, you will need to put them through a brisk walking test to check fit, support and comfort. Make sure to wear both shoes and lace them up all of the way to see how they would fit in real life situations. Be aware of any excess pressure or chafing around the top and sides of your feet, which will only get worse as you ride around town.