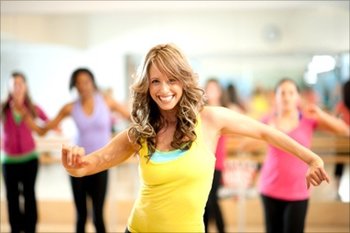 1) Try it on – Don't be shy. If you are buying a sports bra, make sure you try it on before you make your purchase. Don't go by size on the label, because sizes on the tag are not always a great indicator. You want to make sure your bra is comfortable and that it is not squeezing too tightly. You should not have any folds or indentations in your skin. Your bra should be tight, but not so that it feels restrictive. If you are unsure, you can always try a running store and talk to a professional there about getting help finding the right bra size.
2) Know your sport – Will you be jumping up and down, running or doing aerobics? Or, will you be doing yoga or maybe walking? This is important because you need to know what shape of bra to purchase. If you are going to be doing a high impact workout like running or aerobics you want a high impact bra. If you are doing yoga or walking, a low impact bra or a shimmel, a tank top with a shelf bra, should do the trick. Scoop back bras work best for low impact and racer back are better for high impact.
3) Compression or encapsulation – If you are a small chested woman you should be comfortable with a compression bra. These hold your chest in to restrict movement. Remember that these may feel 'tight' and should keep your chest restricted, but should not cut into your skin. If you are larger busted, you can wear a combination or an encapsulation bra. These are more like regular bras in that they cup each breast individually. Combination bras also compress your chest, while others only offer support.
4) Test drive your bra – Yes, even in the dressing room. This means you should be doing some jumping jacks if you plan on running in your bra, or try a few yoga poses if you are looking for a yoga bra. Make sure you try a good range of motion so that you are able to see how comfortable the bra is when you are moving around.