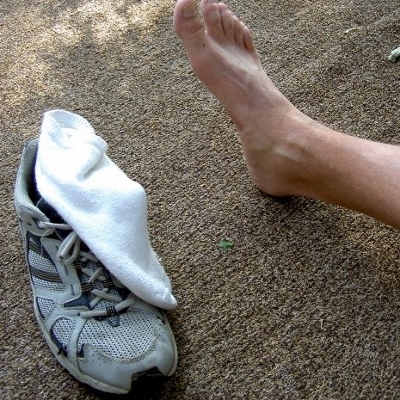 A good pair of workout socks can make or break a workout. You are not likely to push as hard if your feet are uncomfortable, and there is even a chance that you injure yourself. Here are some tips to finding the perfect pair of workout socks for a wide variety of activities. A good pair of socks is worth the money!
1) Running socks – If you run indoors or outdoors, you should still have a good pair of socks that wick away moisture. No matter the temperature, the chances are pretty large that your feet are going to sweat while you run. If you wear cotton socks this could get very uncomfortable about half way through your run and even more so during your cool down. There are plenty of options out there, so make sure you are using a thin material that will protect your feet from rubbing. Some cotton blends may keep your feet relatively comfortable as well, as long as they have wicking capability.
When I run, I find it very uncomfortable to wear low socks as they often slip over time. I prefer Brooks running socks, which are thin, tight fitting, and come to just above the ankle. There are also some incredibly thin Merino wool socks that are great for outdoor running in colder temps.
2) Gym socks – Working outdoors means a more stable temperature, but you still need a good comfy pair of socks. You might consider bringing an extra pair so that even if you don't change your gym clothes before you go home, you can change your socks before you change your shoes.
You should still be looking for a pair of wicking socks preferably thin to avoid chafing. Some workout socks offer extra support through a tight fit and reinforced toe and heel, as this can keep your feet cozy and working more efficiently.
3) Yoga socks – While most yoga is done barefoot, cold feet are a common problem during the relaxing and cool down period at the end. It is good to always have a nice warm and cozy pair of socks to slip into before the last poses of your yoga practice. I like to have a pair of soft and fuzzy socks that are almost slippers. You don't need to worry about the material of these socks as much, as these won't be wicking away too much moisture and you can always towel dry your feet before you slip into them if you are concerned about sweat.