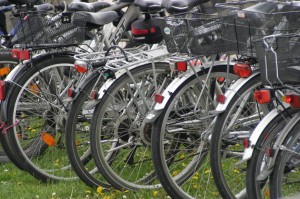 You know what's unfair? The more fit you are, the faster you can lose that fitness. In just three weeks, you could lose 5-10% of your aerobic power and/or endurance; however your strength may stick around a little longer because of muscle memory. If you decide to take a full week off for vacation, or longer, you may find yourself having to build up your endurance all over again.
There are many ways to avoid losing what you have worked for while you are on vacation. Many vacations include physical activities such as swimming, hiking, or walking. If you can take a run along the beach, do so; maybe even try to run barefoot to enjoy a more challenging workout. You can also take a bike ride. Touring somewhere by bike is a great way to see your surroundings while getting exercise. If you spend a whole day biking, I think you'd be surprised to see how much energy that will take out of you.
If your vacation puts you in a situation where you will not be doing any physical activities, there is still hope for you. There are plenty of quick workouts that don't require a lot of space or a gym. If you can bring a resistance band along, that would certainly help, but using your own body weight for a week or two can definitely keep your body in line so  you can jump right back into things when you get back.
You don't necessarily need a total body workout while you are away; targeting major muscle groups will do the trick, too. Some examples are the body plank, squats, lunges, triceps dips on a chair, side plank ab twists, and various other abdominal workouts. Try some variations of the exercises as well to make them harder on yourself. The key is to go slow and feel your muscles working.
Working out a little bit on your vacation will keep you "in shape" enough so that you can avoid being disappointed in yourself the next time you get back into your typical routine.