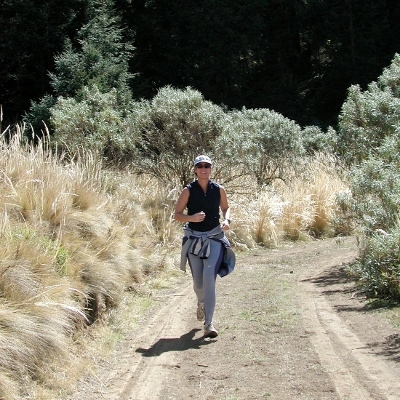 Spring is here and that means more and more people are heading outside to run. Sometimes it can be a bit tricky dressing to run outdoors in the spring because it is not quite warm enough to run in just a t-shirt and running pants, but after a few minutes you are so warm it can be too uncomfortable to run with heavy layers. Here are a few tips for dressing for a run as spring rolls in.
1) Lightweight jacket – I love my running rain jacket to run in at this time of year because it is comfortable, light and keeps me warm at the beginning of the run, but I do not over heat. Some people prefer a lightweight jacket of other material, but I find a fleece or a sweatshirt starts to get too heavy or bulky when I am warmed up.
Another great thing about a lightweight jacket is that it is easy to take off and wrap around your waist if you get too uncomfortable. And since it is not too bulky, it won't disturb you during your run.
2) Gloves without fingers  – If things are still a bit chilly here, I often start my jog with a pair of gloves that leave my fingers free. This helps me have full range of my hands, but also keeps me warm for a bit longer.  Sometimes I find I tuck my gloves into my jacket pocket along the way, other times I end up wearing them throughout my run without noticing them.
3) Running tights – It is this time of year that I stop running in my winter tights, but I keep running in full length running tights. You can always layer your tights with a pair of shorts or something if it makes you more comfortable. I have a few pairs of running capris, but I won't get those out until things start to warm up a bit more.
4) Long-sleeve shirt – You can always keep wearing a long sleeve wicking shirt underneath your lightweight jacket. This way you won't get too cold when you start to cool down after your run. Most running shirts are breathable and wick well, so there is no need to switch over to a t-shirt for comfort.
5) Headband – Welcome to the 80s! It can be too warm and uncomfortable to wear a full hat, but you may want to cover your ears at the beginning of your run. Pop a headband on that covers your ears and if you get to warm you can move it to let your ears get some air.