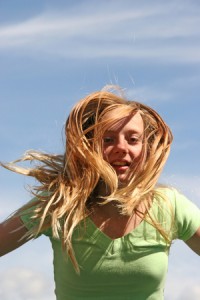 This summer we spent a lot of time staying with relatives at their house. They have five kids and need a lot of activities to keep everyone active and moving. This summer the family invested in a large trampoline, and the kids were out there all the time, hopping away. And after a few days, I decided I had to give it a go. What can I say? Jumping is fun, and it makes a great workout.
When we got home, I really wanted to invest in a trampoline. But we do not have the space for it, and my child is too young to really appreciate it, so I did a quick Internet search and found a small trampoline or a rebounder instead.
A few days later our rebounder arrived. It was not very expensive, and it was only about a meter in circumference. It fits in our living room, in our storage closet, and in our back yard. The best part is that it is so easily portable, and it does not require a great deal of assembly.
My kid loves it, and I have turned the rebounder into a great workout machine. I can jump in front of the TV or while listening to music. And I can create my own workout every time.
Working out on a trampoline is kind to your joints, and it doesn't put as much strain on your body as working out on the floor.
Here are some different exercises you can do on the mini-trampoline:
1) Run in place – Unlike running on the ground or on a treadmill, running on a trampoline is kind to your joints. You do not need to wear shoes to do it, even if you have overly flat feet like me. You can lift your knees higher to get a better workout, or just march in place quickly.
2) Twisting jumps – These are jumps where you turn at your torso, so first your feet face left and then right. These jumps exercise not only your legs and help build stamina, they also work your obliques and abdominal muscles.
3) Regular jumps – You do not need to do anything fancy; you can always just jump up and down.
4) Jumping jacks – Doing scissor jumps or jumping jacks are another great way to vary your workout and keep your heart rate up.
Basically I do not have a formal routine when I work out on my trampoline. I do a combination of jumps depending on how I feel. If you need inspiration, you can always try a rebounder or trampoline video, which will walk you through a routine. I like just popping in a DVD or watching my favorite TV show when I jump, as it makes the time go faster.