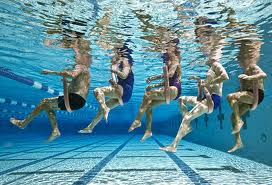 It is summer season, and if you don't like sweating it out in the gym, it is probably getting a bit hot for you to keep up your outdoor workout. If you have access to a pool, there is no reason why you can't keep your workout up even during the hottest days, without even breaking a sweat! Here are a few lower body exercises designed for the pool.
1) Laps – Crawl stroke or kickboard – You may feel a little funny holding on to a kickboard and making your way across the pool if you are over the age of say, 7. But it is a really great way to isolate your legs and to make sure it is the power of your kicking that gets you across the pool, not your arms. If your embarrassment tolerance level won't handle this, you can always use the crawl instead, but try to let your legs do as much of the work as possible.
2) Tread water – Hang out in the deep end with your friends, and catch up for a while. Choose anywhere that your feet don't touch the bottom. Try to stay treading water for at least 30 minutes at a time. Don't go too slowly, as you want to keep your legs moving as much as possible.
3) Run – Again, this might be an exercise you choose to do early in the morning before the pool fills up, but trying to run in the water is also a great lower body strength builder. Take long strides and push off the bottom in the shallow end. This will help keep your running muscles toned even when it is too hot to run.
4) Leg weights – Strap on some ankle weights, and add them to your treading water or crawl stroke. You will feel your efforts a lot faster. Start out with 2 or 5 pound weights. Make sure you don't put on too much weight, as you don't want to sink. Please use caution and common sense for these exercises and know your limits. Also make sure your leg weights are easy to remove.
5) Underwater leg lifts – Hold onto the side of the pool. You can hold on with one side or your arms behind your back. Lift your legs slowly, one at a time, slowly upwards. You can try these at a range of motions to increase the effect. Do lifts to the side to help strengthen your hips and the back for your hamstrings.