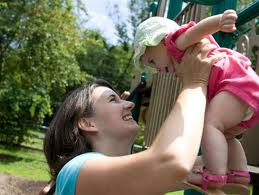 With two small children and a lot of pregnancy weight still left to lose, I do not have time to make it to the gym as often as I like. So I am stuck trying to find a variety of home workouts that keep me motivated, that give me a diverse workout, and that I can squeeze into my busy day.
In my search for good online workouts, I stumbled upon Fitness Blender. This website offers free workout videos with a variety of different styles and levels.
They seem to be the perfect solution for me at the moment. I can do a few short videos during nap time, or a longer workout in the evening after bed time. I can choose which workout I will do based on a clear description of the equipment needed and the exercises involved.
I have been working on targeting my lower body, and Fitness Blender has some great videos that target just those regions. The videos are easy to find with the simple search function that allows you to target cardio, upper or lower body, and even length of workout and type.
So far I have tried their ballet video, which combines a variety of lower body exercises with some mild cardio. You do not need to have ballet skills or be highly coordinated to master these exercises, but you will get a great workout!
Next I tried the cardio workout video, and it was a great combination of exercises that gave me a complete workout in 44 minutes.
Finally I tried a 30 minute pilates video that targeted the lower body and this was also easy to follow (although not easy to do!)
The website has a great variety of workouts for men, women, or both. And what I appreciate most is that there are so many to choose from I do not get bored. Also, since each exercise is only done for a short amount of time, it is easy to push yourself a bit and easy to say 'I won't quit yet; I will just try one more exercise' until you find you are suddenly at the end of the video.
If you are like me, and on the run, try out some of their 7-10 minute videos like the Quick Cardio Calf Workout or the 15 minute Oh My Glutes.
There are no hidden costs, and you will not be asked to purchase anything – although after enjoying the workouts so much, I am considering buying their 7 dollar workout program recommendation for what order to do the videos in (when I have a little more time to focus on workouts though!)