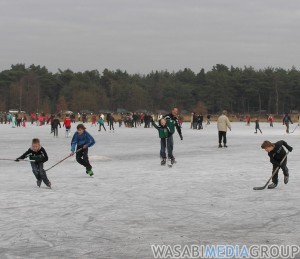 Here in New Hampshire, winter lovers still are waiting for the temperatures to drop. It is simply too warm for snowfall and frozen water. When the snow falls and the temperature drops, opportunities for winter fitness activities open up. Some of these activities inherently allow you to burn more calories. Here is a list of winter activities from least to most demanding. (All calculated values are based on a selected weight of 135 pounds):
Skating – Moderate skating is a leisurely activity, and consequently it only burns about 230 calories per 45 minutes. On the other hand, if you find a rink where you can take skating to the next level, you maybe be able to burn upwards of 400 calories for that same amount of time.
Snowboarding and Skiing (moderate) – Moderate snowboarding or downhill skiing burns about 290 calories during an exercise period of 45 minutes. This is definitely on the low end for winter activities, but most of us typically ski for hours on end, and the used calories rack up quite quickly.
Snowshoeing – Snowshoeing burns about 340 calories for 45 minutes of the activity. This is about twice as much as standard walking at a brisk pace would burn.
Cross Country Skiing – At a slow pace cross country burns at the same rate as snowshoeing. However, at a moderate pace you can burn about 385 calories in 45 minutes, 435 during 45 minutes at a vigorous pace. Cross country skiing has the added bonus of being quite scenic.
Snowboarding and Skiing (vigorous) – If you are planning on racing down the mountain and hitting some moguls, you also can plan to expend more calories. Vigorous snowboarding or downhill skiing burns about 385 calories for 45 minutes of activities.
On a winter vacation it's easy to spend hours involved in any of these activities. As always, it is important to stay hydrated. (Simply being surrounded by snow doesn't do anything for you, though it might have that illusion!) Also, if you're curious, shoveling fits in at number 2 (according to healthstatus.com) burning about 280 calories for 45 minutes. (I get the feeling it's actually more than that based on how much it tires me.)