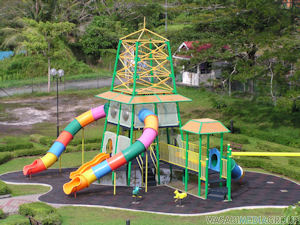 If you like to work out early in the morning outdoors before the heat, you may find that a playground is a great way to add some different kinds of lower body exercises to your routine. Here are a few things you can try, on basic playground equipment, before the kids start taking over the place!
1) Ladder climbing – Practice climbing up and down some of the ladders at the playground as fast as you can. Climb both up and down, as this unique movement trains different leg muscles than just running stairs. It does not matter if the ladders are not very high, just repeat the movement.
When you get to the bottom of the ladder, jump down, and then jump back up again.
2) Climb the slides – If there are no kids around, practice running up the slide and then down again. The steeper the slide, the better the workout. Make sure the slide is sturdy enough to hold your weight.
3) Hopscotch – You can always hop around a hopscotch board even without throwing stones. The combination of hopping on one leg and then bending over is a great way to build up calf muscles. Remember, you hop on one leg in all of the single squares and can jump on two legs for the double squares. You repeat the jumping to pick up a stone on each number.
4) Stairs – If you don't want to run up and down the stairs at the playground, you can always work on calf presses. Stay on the lower step, lower your heels as far down as you can and hold for a few seconds. Then rise up to your tip toes, and hold for another few seconds. Repeat the exercise about 5 times.
5) Balance beam – Most playgrounds have a balance beam or some sort of bench. Balance your way across the beam and then step down with one leg on either side. Squat down slightly, rise up, and step back on the balance beam. Repeat the series of squats and steps to build up your leg muscles.
6) Monkey bars – They are for upper and lower body strength. Hang from the monkey bars and lift your legs up from the ground. Now do leg lifts one leg at a time. This is a great way to train your core and your legs.