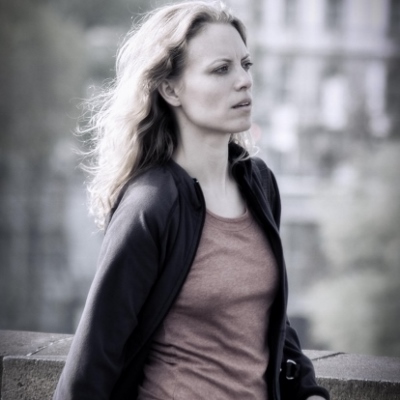 It will soon be time to pull out your sweaters and start layering when going to work out. This is also a time of the year that you can put together cute outfits that will take you from the gym to running errands afterward. When layering, you have to opportunity to mix different textures and patterns for very attractive outfits that are pretty enough to wear on days when you aren't working out. Read on to learn about what workout wear in on trend for fall 2014 and add some of these great pieces so you will be stylish and comfortable throughout the season.
C9 by Champion® Women's Loose Fit Yoga Layering Top – This top from Target is not only cute, but very affordable at $18 and is available in light pink, heather grey, and black. It's perfect for layering, with a scoop neck, long sleeves, and hits below the hips so you can wear them under yoga pants without feeling self-conscious.
Made For Life™ Medallion Tee or French Terry Pants – Available at JC Penney, this outfit is only $20-$36 per piece when not on sale. The terry fabric adds extra warmth without bulk, but also allows your skin to breathe. The tee is available in aqua splash, Honolulu pink, iris orchid, and Providence grey, and all the colors are as pretty as they sound! The pants are available in black, heather grey, merlot sorbet, and Williamsburg navy, which are the perfect colors to complement the tees.
Larry Levine Women's Active Fleece Lined Soft Shell Jacket – Perfect not only for chilly morning workouts, but also for fall football games, this jacket from Overstock.com is a classic jacket that you can pair with most anything, but it is lightweight, and is just right for after a sweaty workout because of the fleece lining. Available steel grey, fuchsia, and black, and only $45.99, you'll reach for this jacket day after day.
FILA SPORT® Rule Break Colorblock Running Capri Leggings – If you like to workout outdoors, like running or tennis, instead of wearing shorts, try these running capris that will give your legs more coverage to keep your legs warmer, but they are also fashionable and cute for wearing on weekends to the park or walking the dog. Available at Kohl's, on sale at the time of this writing for $27.99, regularly $40, which is still a steal for these great capris. They are black with grey diagonal stripes that will be easy to match with colorful tops and shoes.
Accessories – To add a little pop to your workout outfits, pick up a cute yoga bag, a few infinity scarves, patterned socks, cute gloves, a terry beanie, and polarized sunglasses. You'll be rocking your look to and from the gym, and use all the pieces in this post even when just hanging out home or out running errands. You will also get a lot of use from all of these items well into winter.