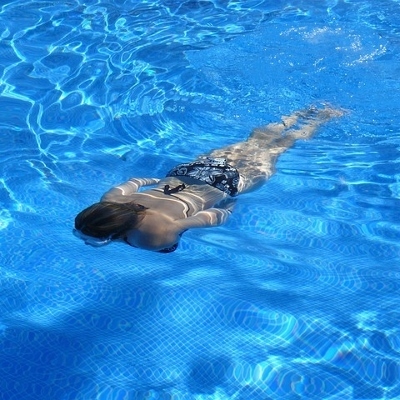 Whether you're getting in shape by swimming laps or participating in water aerobics, your comfort greatly depends on the swimsuit you wear. Properly gearing up for water activities gives you the ability to push your limits. Otherwise, you might be too worried about wardrobe mishaps to keep your mind on good form and beating your times. Suitable swimsuit cuts for high intensity water activities include the racer back one piece, boy short bikini and compression tankini. Read on for more information.
Racer Back One Piece
During water activities, you must fully extend and stretch your arms, neck and shoulders to complete each movement in good form. The racer back cut fully exposes your shoulder blades to avoid impeding your movements. When combined with a one-piece style, you may feel freedom of movement that makes you forget you are wearing anything at all. The total coverage will give you the ability to move around without feeling self-conscious about your body composition. If you are worried about the way the suit hugs your curves, pick up one in a busy pattern that lightly conceals and smoothes your figure.
Boy Short Bikini
If you prefer full coverage on the bottom half, but don't want to limit your movement in any way, consider the boy short bikini style. Boy shorts smooth and protect the skin on your thighs to fully prevent chafing while in or out of the water. You will love the way the material allows your legs to glide back and forth comfortably. By protecting the skin on your thighs from friction-related abrasions, you will be able to increase your intensity while kicking your way across the deep end or jogging alongside your peers in the shallow portion.
Compression Tankini
Finding your center of balance in the water can feel like quite a challenge, especially if the weight in your abdomen throws you off a bit. You can better distribute that weight by wearing a compression tankini while exercising in the water. The upper compression garment uses light pressure to keep the body fat in your abdominal area centered around your core. You can wear a bikini, high waist or boy short bottoms with this suit top since it's technically a two-piece. However, the long tankini fit will provide you with the coverage you need to stay comfortable in the pool.
Finding Your Perfect Cut
As you try out each suit type, mentally observe your range of motion and comfort throughout each activity. If you find a certain cut limits your mobility in any way, place it to the side and try out something different. Make sure you do not feel self-conscious or distracted by the way the suit looks or feels on your body. Furthermore, check for chafing or soreness caused by an improper fit. The suit should fit snugly without digging into the flesh around your thighs or shoulders. Once you identify the perfect swimsuit cut for your body type, you can amp up the intensity to burn up more than 500 calories an hour.