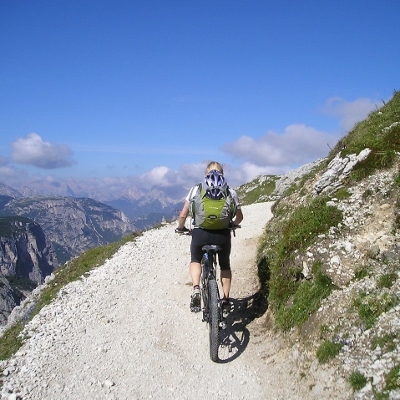 After taking up biking, you may challenge yourself by continually extending your ride distance or difficulty. During these challenges, you might notice your riding gear is just not holding up to expectations anymore. You may come home with aching glutes and pecs, chafed thighs and rashes or blisters on your feet. Your clothing choices may leave you soaking wet from sweat or much too hot to continue while way too far from home to make it back quickly for a change. By outfitting yourself for the ride, you can successfully complete each challenge without these problems. Read on for some biking wear ideas.
Racer Back Sports Bra
To maintain good form, biking requires you to lean forward at a 45-degree angle for the duration of your ride. Without a supportive sports bra, you may return home with a sore, aching chest that prevents additional workouts in the coming days.
You can wear compression or encapsulation style sports bras to prevent soreness and stay comfortable throughout your ride and beyond. The bra you choose should firmly hold your breasts close to your chest wall to reduce strain on the underlying muscle tissue. Make sure the bra has a racer back and wide straps to center the weight over the strongest part of your shoulders.
Fitted Wool Socks
Rashes and blisters often develop after sweat dampens or wets socks. The wetness increases friction between your skin and shoes, which severely impacts comfort. Furthermore, the wet material may give you a chill, even while riding at your limits. Luckily, you can prevent the painful rash and blisters while staying just warm enough by wearing socks made from wool, not cotton or polyester materials. Natural wool wicks away sweat and allows it to evaporate into the air. This effect is increased when wearing running or biking shoes with built-in mesh vents.
Thin Spandex Shirt
The funny thing about sweat is that it has the ability to make you feel either too hot or too cold, depending on the temperature outside and wind chill while riding. As with your sock choice, you can take sweat out of the equation almost completely by choosing the perfect shirt material. Unlike the socks, however, synthetic materials are a better choice for your shirt due to the high cost and difficult care requirements of natural wool. Look for t-shirt cuts made from 100% spandex materials. Buy the shirts a little big to maximize airflow around your body while you ride.
Padded Biking Shorts
Even if you upgrade the seat on your bicycle, you're sure to return home with a sore butt after a long ride. You can eliminate this problem by completing your biking outfit with a pair of padded shorts or pants. The thick chamois pads completely eliminate chafing between the thighs while adding an extra layer of protection to your backside. You will notice a drastic reduction in soreness and rashes after wearing padded biking shorts on all of your rides.