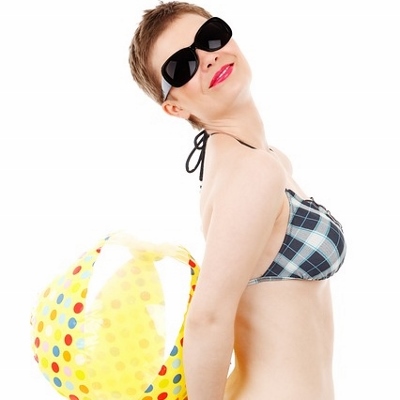 Beach season is inching its way closer and that means time to get ready to squeeze in to your bathing suit again. This year I am preparing intensively because I still have some of the last pregnancy pounds to lose, and so to help burn those last few inches, I've put together a "Get Ready for Summer Cardio" routine that works to combine cardio moves with muscle toning exercises. The idea is also to give the body enough time to rest and build muscles that you are maximizing your workout rather than ending up with injuries.
1) 5K jog every other day – My favorite form of cardio is a good run, so I always make sure that I am getting in a few miles every week. As I start to ramp things up and focus on fat burning, and since I don't have a race coming up, I keep to 5K every other day. Mostly my pace is pretty calm, I use this time to relax, listen to music, and break a light sweat. To focus your cardio, work on keeping a pace that you can breathe comfortably at but still makes you put in some effort.
2) Aerobic workout – Two days a week, when I am not running, I try to add in an aerobic workout that also targets core muscles. I like to change it up a bit so that I don't get bored. This week I am doing a routine from P90X and one by Jillian Michaels. Other weeks I use an Internet workout or take a class at my local gym.
3) Dance class – I've never been the most coordinated, but my husband and I signed up for some ballroom dancing classes last month, and wow they pack quite a great cardio workout. You don't need Zumba to gain some actual dance skills while you get a good cardio workout. If you throw on a pair of high heels for the process you will also work out your calf muscles in a completely different way than you are used to! I take my dance class one night a week and stagger my runs around this class.
4) Rest – If you are working towards a beach toned body, you want to make sure that you rest your body as well. Don't do more than a yoga or stretching routine on your rest days, and nothing that will elevate your pulse.
This workout will vary your focus so that you don't put too much repetitive strain on your muscle groups, but it is also 'easy' enough to be appropriate for relative beginners and more advanced. Just, as always, make sure you talk with your doctor before starting a new exercise routine.